Andrew Louis DeGruccio, M.D.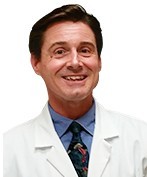 Andrew Louis DeGruccio, M.D. is a board certified orthopedic surgeon practicing since 1997. He is a graduate of the University of Southern California Medical School and did his orthopedic training at the University of Louisville. He earned his undergraduate degrees in Kinesiology and Psychobiology from UCLA. He has been active as a player and coach in Louisville area soccer leagues for over 15 years and has played on a USTA tennis team. He has also become a white water kayaker. His active participation in sports combined with his educational background, have made sports medicine a special interest in his orthopedic practice. With an appointment as a Clinical Instructor in the University of Louisville, Department of Orthopedic Surgery, he places special emphasis on educating his patients, as well as overseeing their comprehensive orthopedic care.
Education
July 1993 - July 1997

Residency: Orthopaedic Surgery

University of Louisville Medical School

Department of Orthopaedic Surgery

Louisville, KY 40292;

July 1992 – June 1993

Internship: General Surgery

University of Louisville Medical School

Department of Surgery

Louisville, KY 40292;

September 1988 - June 1992

University of Southern California, School of Medicine

2025 Zonal Ave., KAM-100B

Los Angeles, CA 90033

Degree: M.D.;

September 1983 - June 1987

University of California, Los Angeles

405 Hilgard Ave.

Los Angeles, CA 90024

Degree: B.S. in

Kinesiology and Psychobiology

Magna Cum Laude

September 1981 - June 1983

Mt. Carmel High School

9550 Carmel Mountain Road

San Diego, CA 92129
Professional Experience
December 2007 - present

Orthopedic & Sports Specialists of Louisville, P.S.C.

Orthopedic Surgeon, Founder and Corporate President

9370 Cedar Center Way

Louisville, KY 40291

Board Certified 7/16/1999;

August 1997 - November 2007

Orthopaedic Associates, P.S.C.
Orthopedic Surgeon, Corporate Secretary and Partner
225 Abraham Flexner Way, Ste. 403
Louisville, KY 40202
Honors & Awards
Additional Professional Activities
Clinical Instructor, University of Louisville, Dept. of Orthopedic Surgery
Team Physician Doss High School 1997-2007
Team Physician Fern Creek High School 2008 to current
Norton Brownsboro Hospital Med. Exec./Surgical Care Appraisal Committee
Team Physician River City Rovers PDL Soccer Team
Board of Directors Baptist Eastpoint Surgery Center
Professional Memberships
American Medical Association
American Academy of Orthopedic Surgeons
Kentucky Medical Association
Louisville Orthopedic Society
Southern Orthopaedic Association
Office Gallery
Andrew L DeGruccio, M.D.
9370 Cedar Center Way
Louisville, KY 40291
Phone: (502) 762-9528